Join the Spiritual Alliance of Communities for Reproductive Dignity (SACReD) January 25-26, 2022, for a first-of-its-kind virtual gathering of justice-oriented people of faith, activists, and leaders from the reproductive health, rights, and justice community.
Grounded in our shared values of justice, dignity, human rights, compassion, and expansive love, we will discover how faith and reproductive liberation are interdependent through keynotes, panel discussions, and breakout sessions.
Learn why our collective voices matter now more than ever in the fight for abortion access and reproductive freedom so you can share the message of faithful reproductive dignity with yourself, your congregations and your communities.
---
What is SACReD?
We're creating a religious movement to share the message of reproductive dignity. One faithful congregation at a time.
Many congregations speak proudly and publicly for the critical justice movements of our time: racial justice, LGBTQ+ justice, immigration justice. We declare at our congregation's doors that Black Lives Matter. That our congregations are welcoming. And that hate has no home here.
And the fight for reproductive justice includes all of these important issues, where faith voices are boldly front and center. It is deeply faithful for congregations to speak out in support of reproductive dignity, including abortion.
The Spiritual Alliance of Communities for Reproductive Dignity (SACReD) calls on faithful people across the country to join us. It's time to become a SACReD Congregation.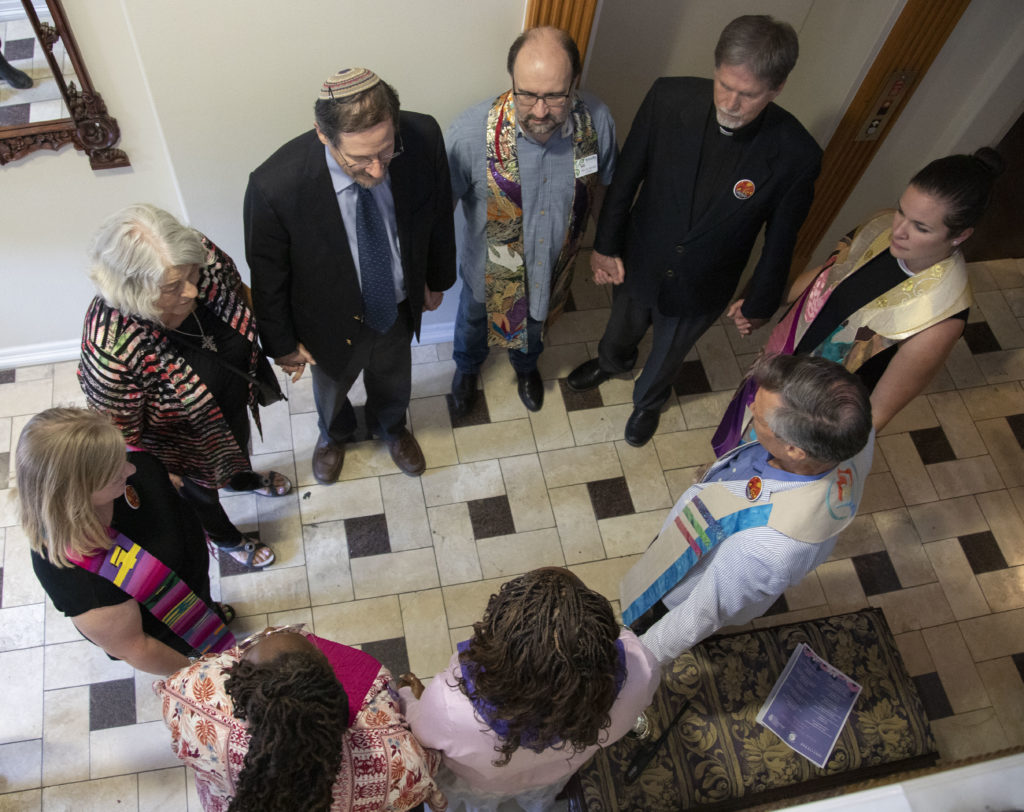 ---
SACReD is the spark that will change the religious conversation around abortion.
We are building a multi-racial, multi-faith movement of congregations across the country that publicly proclaim their support for reproductive dignity.
We are creating places of love and compassion in our congregations for anyone who needs abortion care.
We are changing the culture.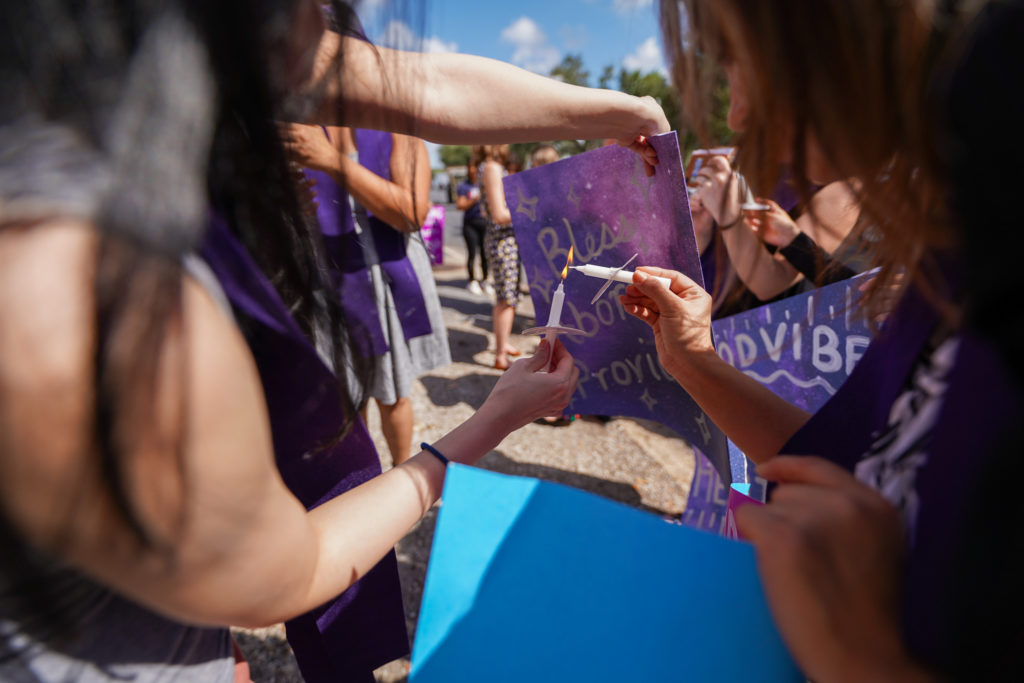 ---
Schedule
Day 1—Tuesday, January 25, 2022
11:00 AM EST
Opening Interfaith Worship
Rev. Andrea Vassell (Worship Leader), Elana Arian, Elder Jonathan Thunderword, Rev. Amundayo Edwards, Ifáwárìnwa OyaSùúrù, Minister Tammi Vaughn, Rosana Ekert, Jeana Nam (Storyteller), Rev. Dr. Daniel Kanter, Amany Shalaby, Rev. Kenyetta Chinwe, Rabbi Mara Nathan, Jamie Manson, Rev. Dr. Earle Fisher, gina Breedlove
12:00 PM EST
Panel: Actions Speak Louder than Words
Rev. Dr. Cari Jackson (Moderator), Rabbi Josh Fixler, Dr. Toni M. Bond, Rev. Amelia Fulbright
1:00 PM EST
Breakout Session #1

Organizing Against Local Abortion Bans
Blair Wallace, Sarah Parker, Kate Danehy-Samitz

SACReD Curriculum Overview #1
Rev. Kenyetta Chinwe, Dr. Elizabeth Freese

What is Pro-Voice?
Amy Congdon

History of Abortion + Faith Panel
Rev. Dr. Cari Jackson (Moderator), Anne Legier, Gil Frank, Jennifer Holland

Interfaith Voices for Reproductive Justice: Work at the Intersection of Religion and Reproductive Justice
Charity Woods
2:00 PM EST
Breakout Session #2

SACReD Curriculum Overview #2
Rev. Dr. Cari Jackson, Rev. Dr. Rebecca Todd Peters

A Reproductive Justice 101 Briefer
Rev. Kenyetta Chinwe

Reproductive Justice – Informed Compassionate Care
Rev. Kentina Washington-Leaphart, Rev. Rob Keithan

Beware of Fake Clinics: Exposing Anti-Abortion Pregnancy Centers in Your Community
Emily Martin, Amy Weintraub, Graci D'Amore

Texas to New Mexico: Post SB8 and How We are Getting Patients Abortions
Daniel Kanter, Joan Lamunyon Sanford
3:00 PM EST
Breakout Session #3

Networking Open

Trust Women: Changing the Conversation About Abortion
Rev. Dr. Rebecca Todd Peters

Creating a Jewish Movement for Abortion Justice
Rabbi Danya Ruttenberg

Reproductive Justice for Muslims
Sahar Pirzada

Catholics and Reproductive Freedom: Breaking the Silence
Teresa Delgado, Jamie Manson, and Kate Ott
Day 2—Wednesday, January 26, 2022
11:00 AM EST
Keynote
Cherisse Scott
12:00 PM EST
SACReD Congregations Designation Launch
Emma Akpan, Rev. Kenyetta Chinwe, Rev. Rob Keithan, Rev. Angela Williams
1:00 PM EST
Breakout Session #4

Abortion Testimony to Eliminate Stigma
Anise Simon, Jeana Nam, Elizabeth Mosley

Law, Religion and Reproductive Justice
Liz Reiner Platt

Reproductive Justice in Latinx Communities
Nancy Cárdenas Peña

Religious Perspectives on Reproductive Dignity
Rabbi Danya Ruttenberg, Jamie Manson, Rev. Jes Kast, Dr. Dr. Pamela L. Davis, Amany Shalaby

Laboring with Hope
Nakeitra Burse
2:00 PM EST
Breakout Session #5

SACReD Curriculum Overview #3
Rev. Ann Hayman, Rev. Rob Keithan

Reproductive Justice with Black Christian Women
Dr. Toni M. Bond

Abortion 101
Courtney Chambers, Sonja Miller

Abortion Morality and Biblical Theology
Dr. Elizabeth Freese, Rev. Angela Williams

The Importance of Progressive Faith Voices
Fred Clarkson
3:00 PM EST
Closing Interfaith Worship
Rev. Andrea Vassell (Worship Leader), Anise Simon (Storyteller)
---
Partners
The entities working together to plan A SACReD Gathering are:
All Souls Unitarian Church (Washington, DC)
Auburn Seminary
Congregation Beth Israel (Austin, TX)
Emory University – EnFaith Project
Faith in Women
The Fellowship of Affirming Ministries
First Unitarian Church (Dallas, TX)
Florida Interfaith Coalition for Reproductive Health and Justice
Just Texas – Texas Freedom Network
Michigan Unitarian Universalist Social Justice Network
Religious Coalition for Reproductive Choice
Religious Coalition for Reproductive Choice (California Affiliate)
Religious Coalition for Reproductive Choice (Kentucky Affiliate)
SisterSong
Whole Woman's Health Alliance
---
Diamond Sponsors
Collaborative for Gender and Reproductive Equity
Amy Fikes
Auburn Seminary
Rebecca Todd Peters and Jeff Hatcher
SisterSong
---
Platinum Sponsors
All Souls Church Unitarian, Washington, DC
First Unitarian Church of Dallas
First Unitarian Universalist Society of San Francisco
Florida Interfaith Coalition for Reproductive Health and Justice
Planned Parenthood Federation of America
In honor of The Patients We Serve

by Planned Parenthood of Greater Texas

In memory of Missing and Murdered Indigenous Women and Missing and Murdered Trans Women

by Presbyterian Church (USA) Office of Gender & Racial Justice, Rev. Shanea D. Leonard, Coordinator

Unitarian Universalist Association – Side With Love
---
Gold Sponsors
Catholics for Choice
National Council of Jewish Women
New Mexico Religious Coalition for Reproductive Choice
In honor of all the many UCC women and men who have advocated for reproductive justice

by United Church of Christ, Justice and Local Church Ministries
---
Silver Sponsors
First Unitarian Church of Portland
Judson Memorial Church, New York, NY
In honor of Rabbi Kelly Levy
Presbyterians Affirming Reproductive Options (PARO)
The Religious Coalition for Reproductive Choice of California
SisterReach
Texas Unitarian Universalist Justice Ministry
Vanderbilt Divinity School
Westmoreland Congregational United Church of Christ (UCC)
---
Bronze Sponsors
Duane L. Dowell, MD
HEART Women & Girls
Janet Tharp
Martha D. Kirby
Rebecca Martin
Religious Coalition for Reproductive Choice
State Innovation Exchange (SiX)
United Methodists for Reproductive Justice
University Baptist Church, Austin, TX
---
Promotional Sponsors
Religious Action Center of Reform Judaism